Study To Bring Positive Change To People's Lives
Working in aged care is a truly rewarding and enriching experience that can make a significant difference to elderly individuals, their families, and society. It is more than a job: it is a diverse and stimulating role that allows you to be a part of people's lives when they require – and deserve – extra care and compassion to help them become more comfortable, independent, and happy.
The aged care sector is wide and varied. As the size of the elderly population increases, the need for qualified care workers grows. Our courses at breakthru College provide high-quality training so that you can be well prepared and competent for this role.
Our courses are fully accredited and nationally recognised. Regular interaction with government and industry organisations means we are responsive to needs and changing requirements, keeping our courses up to date and relevant.
Our classes are delivered by our highly qualified, skilled, and experienced local trainers. Classes are available face-to-face or online. The latter option provides you with more flexibility, allowing you to study remotely. Both modes are fully supported by our dedicated and highly experienced trainers.
Training to become an aged care worker through breakthru College can be a turning point in your life with a long-term impact that will positively shape countless lives.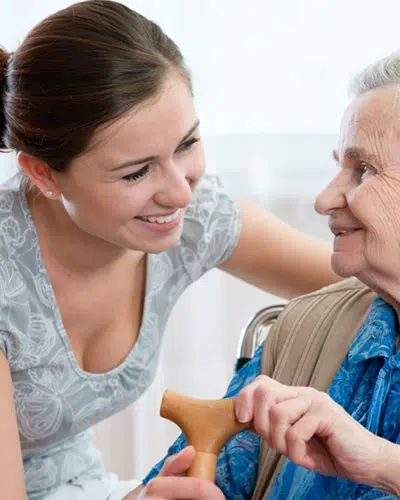 Study Aged Care Support Through breakthru College
There are several courses at breakthru College that you can choose to study depending on your desired outcomes and career trajectory. These may involve various practical skills and theory, such as procedural and medication knowledge and personal care competencies.
Our courses involve work placements for real-life learning and experience. During these, you will be well supported by knowledgeable and qualified workers and trainers. You can choose from in-person and online options for classes. The delivery mode and qualification type will be reflected in the duration length of your course.
Our Aged Care Courses
The courses at breakthru College are comprehensive, engaging, and nationally recognised. For more specific details regarding entry requirements, delivery modes, and unit requirements for all of our courses, please follow the links.
Available courses include:
CHC33015: Certificate III in Individual Support 
Support workers with this qualification have roles in the community or residential settings. They provide person-centred support with individualised plans to people who require care due to ageing.  
Course duration:
 Work placement:
 Aged Care job prospects include:
Aged care social worker.

Aged care assistant.

Residential support worker.

Homecare assistant.

Care service employee.
CHC43015: Certificate IV in Ageing Support 
Support workers with this qualification complete specialised tasks and functions in home, community, and residential settings. More autonomy and leadership is required within defined guidelines while providing service through the development, facilitation, and review of individualised plans. 
Course duration:
Work placement:
Aged Care job prospects include:
Care activity worker.

Care service team leader.

Care supervisor.
Contribute With A breakthru College Aged Care Qualification
Many jobs can feel the same day in, day out. That's where aged care work differs. You can go from helping provide medications to assisting with activities of daily living to facilitating social gatherings – and the list goes on! Aged care can be provided to people who require assistance in their own home and those who need more ongoing or focused support in a care facility. The people you work with and care for are interesting and multifaceted, and the two-way connection between you can bring learning, understanding, growth, and gratitude.
Studying with us is a great experience that can make a huge difference in your life and can contribute greatly in the future. Talk to our friendly staff to find out more about the courses and qualifications that interest you.
Most people in Australia wish to remain living as independently as possible in their own homes for as long as it is feasible. As an aged care worker, you can help this become a reality.
Aged care services can involve long and short-term support in a person's home. Full-time care in a facility or residential care home may eventually be required for some individuals, and this can be highly beneficial for them and their families.
More than one million people in Australia were provided care between 2019 and 2020, reflecting the significant size of the elderly population. This involved a variety of services and roles. For example, approximately 840,000 people gained home support through the Commonwealth Home Support Programme, and approximately 245, 000 people received care as permanent residents in aged care facilities.
Due to the increasing size of the older demographic, which is generally classed as people over the age of sixty-five, support workers are in great demand. In 2020, the Commonwealth Home Support Programme had 76,096 workers, and the Residential Aged Care sector had 277,671 workers. When looking at the numbers of elderly people requiring care in relation to the number of workers, it is clear that support workers are in high demand.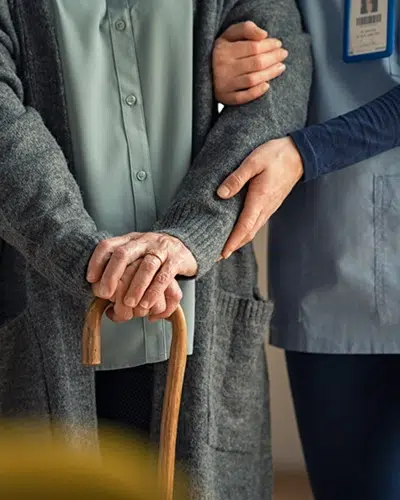 Your Aged Care Training Questions Answered
How long is an aged care course in Australia?
The duration of our courses depends on the qualification, delivery mode. Most generally take six to twelve months to complete.
How much does it cost to study aged care in Australia?
There are various funding options for eligible students. These include the Smart & Skilled Funding (NSW) and the Skills Assure Funding (QLD). We also offer different payment plan options, such as weekly, fortnightly, or monthly, for those not eligible for subsidised training.
Please contact breakthru College for specific course fees.
What is the difference between Certificate III in Individual Support and Certificate IV in Ageing Care?
These qualifications overlap in their development of skills and knowledge related to individualised care dependent on the requirements of the elderly person accessing support. The Certificate IV in Ageing Care provides further training that allows qualification for a position with more autonomy and responsibility, with some leadership expectations.
Do the courses include practical experience in aged care?
Our courses that provide full qualifications involve mandatory work placements. This generally involves 120 hours of fully supported practical experience in an aged care setting.
What education pathways can these courses be included in?
Completion of one of our courses provides you with edibility to undertake further study, such as a diploma or bachelor-level qualification.
Can I get recognition of prior learning (RPL)?
Yes, prior learning can contribute towards our courses. Please contact breakthru College for personalised information.
Is aged care a good career path?
Working in aged care is a highly rewarding, diverse job in which you can contribute greatly to your community. Due to the increased expected life span in our society, our elderly population is growing significantly. Hence, job demand is high, providing good job security and satisfaction.
Moving from his home in Fiji to Australia in 2019, Charlie had big dreams to study and start his career as a nurse. But when Charlie finally arrived on Australian soil, his circumstances quickly began to change. After preparing himself to apply for a Bachelor of...
read more